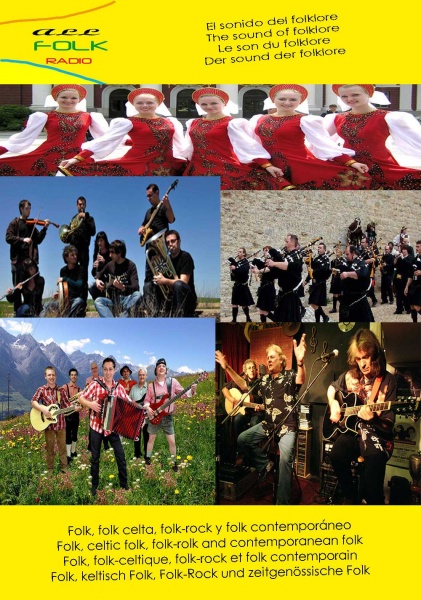 BIENVENIDO A TODOFOLK RADIO. UNA RADIO ONLINE QUE EMITE MÚSICA FOLK DEL MUNDO LAS 24 HORAS DEL DÍA, 7 DÍAS A LA SEMANA.

WELCOME TO ALLFOLK RADIO. AN ONLINE RADIO STATION THAT PLAYS FOLK MUSIC OF THE WORLD 24 HOURS A DAY, 7 DAYS A WEEK.

BIENVENUE SUR ALLFOLK RADIO. LA RADIO EN LIGNE DIFFUSANT LA MUSIQUE FOLK DU MONDE 24 HEURES PAR JOUR, 7 JOURS PAR SEMAINE.

WILLKOMMEN SIE BEI ALLFOLK RADIO. ONLINE RADIOSENDER SPIELT VOLKSMUSIK DER WELT 24 STUNDEN AM TAG, 7 TAGE DIE WOCHE.



DEJA UN MENSAJE EN EL LIBRO DE VISITAS - LEAVE A COMMENT IN THE GUESTBOOK - LAISSEZ UN MESSAGE SUR LE LIVRE D'OR - SCHREIBE EINEN KOMMENTAR IM GÄSTEBUCH
ENVÍA TU MÚSICA O COMENTARIOS A LERADIO@YAHOO.COM - SEND YOUR MUSIC OR COMMENTS TO LERADIO@YAHOO.COM - ENVOYEZ VOTRE MUSIQUE OU COMMENTAIRES À LERADIO@YAHOO.COM - SCHICKEN SIE IHRE MUSIK ODER NACHRICHT AN LERADIO@YAHOO.COM
Follow Allfolk Radio on TWITTER @todofolkradio and know our continuous news
Sigue Allfolk Radio en TWITTER @todofolkradio y conoce nuestras noticias
-----------------------------

ENJOY FOLK MUSIC OF TODAY. ALL THE NEW GROUPS AND THE MOST SUCCESSFUL FOLK-COUNTRY HITS WILL BE PLAYED IN THE PROGRAM FOLK 2000. BROADCAST TIME: FROM 3 TO 8 pm, BRITISH TIME.

DISFRUTA DE LA MUSICA FOLK MAS ACTUAL. TODOS LOS NUEVOS GRUPOS Y LOS EXITOS DEL FOLK Y COUNTRY SERAN RADIADOS EN EL PROGRAMA, FOLK 2000. EMISION: SABADOS Y DOMINGOS DE 4 A 9 DE LA TARDE, HORA DE ESPAÑA.

NUEVO ARTISTA DE FOLK DE ESTA SEMANA / NEW FOLK ARTIST FOR THIS WEEK

DESDE EL SÁBADO 7 EN EMISIÓN/PLAYED FROM SATURDAY 7th

Pospolite Ruszenie
The debut album by Pospolite Ruszenie is a fresh-sounding release on the contemporary heavy rock scene. The record showcases a modern approach to the more or less well-known musical and lyrical masterpieces of the Polish Mediaeval, Renaissance and Baroque period.
Based on the original works of Mikołaj Gomółka (c. 1535 – 1591), Władysław of Gielniów (c.1440 – c. 1505), Wacław of Szamotuły (c. 1525 – c. 1560) or Mikołaj Sęp Szarzyński (c. 1550 – 1581), Pospolite Ruszenie's blistering rock hymns create an entirely new sonic experience. Their music takes the listeners on a journey back in time, reminding them about their ancestors' values, ways of life, as well as the long forgotten moments in Poland's history.
The album includes 10 tracks, on which a classic rock line-up is accompanied by a whole range of different vocals, a violin, a hurdy-gurdy, bagpipes, recorders, schawms, a lute, and a myriad of other historical and ethnic instruments. The band's main recipe is fusing original tunes and lyrics with modern themes, and serving them in a heavy, rock sauce. However, there's much more to their music than just that: the group is extremely versatile, and easily shifts from one style to another. Multiple influences from genres such as jazz, funk, folk, progressive rock or even extreme metal can clearly be heard throughout the record.
Album's preview:
http://youtu.be/b1ndtf5_LBU
Oscar Salinas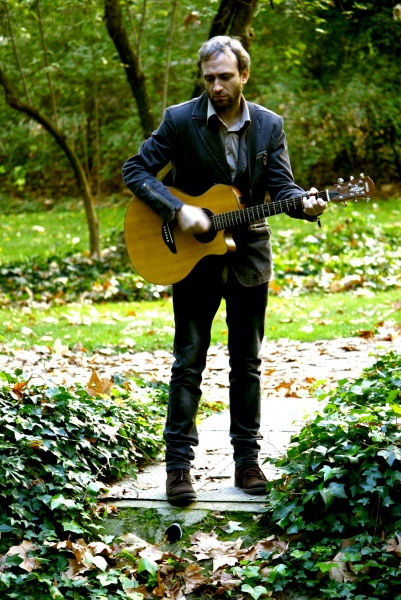 Before The Blue es el proyecto más o menos en solitario de Óscar Salinas, cantante y guitarrista también en Git. Un proyecto de carácter más intimista, con un sonido marcadamente acústico y tintes melancólicos. Sus influencias pasan por grandes nombres de la canción de autor como Leonard Cohen o Elliott Smith, o grupos como Wilco o Camera Obscura.
"Still there, still there... gone" es el nombre del segundo disco de Before The Blue que sale a la luz a comienzos de 2015 de la mano del sello QTV, diez canciones compuestas y grabadas a fuego lento a lo largo de los últimos tres años. El nuevo disco ha sido también autoproducido por Óscar Salinas pero va a ser distribuido por el nuevo sello "QTV música", y en él han participado varios músicos colaboradores que han sido fundamentales a la hora de conseguir el sonido del nuevo álbum, con un formato más variado y rico en arreglos. Entre estos colaboradores destacan también Carmina Suárez (ex cantante y guitarrista en Cold Feet), Sergio Correa (guitarrista en Lecciones de vuelo), Antonio Rodríguez, Andrés Martín (batería en Git), etc. El disco ha sido masterizado por Anty Horrillo (que ha grabado discos de No Aloha, Peluze, etc). En este nuevo trabajo vuelven a ser esenciales unas letras en inglés muy trabajadas, que en este caso giran principalmente en torno a la temática del paso del tiempo. En 2009 editó su primer disco "I Never Found Sense in Burning My Own Poems", autoproducido y autoeditado, y disponible en las plataformas digitales habituales, que contó con algunas buenas reseñas en medios como Mondo Sonoro. Un año después, y acomppañado por la colaboradora habitual Carmina Suárez grabaron un concierto en directo para el programa "TVE es música", que se ha emitido tanto en La 1 como en La 2 de Televisión Española.
Facebook: https://www.facebook.com/pages/Before-the-Blue/158615368688
Twitter: @Beforetheblue
Bandcamp: http://beforetheblue.bandcamp.com/
Youtube: https://www.youtube.com/channel/UCzqJ5e7diUuFH3A72-jzE6A